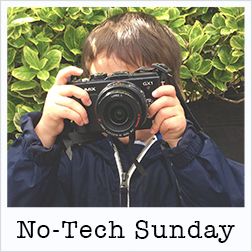 Technology is such a part of our lives, we take for granted what is right in front of us. We are on our phones, Facebook, reading emails, sending texts, all the while life is passing us by. Technology does makes our lives easier but it also takes up a lot of our time, when we could be doing something else more exciting and productive.
I am guilty of being on my phone or laptop when I should be spending more time with the boys. So No-Tech Sunday was born. It is my photo journal of our day/days spent without technology. To spend more quality time with my family. Being more active, having adventures and doing more.
The Rules
There is really only 1 rule. NO TECHNOLOGY. It doesn't have to be a Sunday. It can be any day or days. You can be as strict or flexible as you like. Maybe a day without TV or an afternoon not using your phone (apart from taking photos of course), crafts, cooking, reorganising a cupboard, or just having some "you" time. It can be 1 photo or a whole bunch. A few words would be great but not necessary. The post can be new and old.
So show me how you spend your time on No Technology Sunday! Each week I will put up a new linky. Be sure to paste the badge below on your post.
Please share the love. If you do link up it would be great if you can comment on a few of the other posts. Also share your link on Twitter, Facebook with the hashtag #NoTechSunday and @2littlefaces so I can share on social media.
And if you are really feeling social, feel free to follow me on
Twitter
,
Facebook
,
Pinterest
and
Instagram
!